Justice at Home
"...the test of an independent judiciary is a simple one-the one you would apply
in choosing an umpire for a baseball game. What do you ask of him? You
do not ask that he shall never make a mistake or always agree with you, or
always support the home team. You want an umpire who calls them as he
sees them."
-Robert H. Jackson, Why Learned and Augustus Hand Became Great
Welcome to Justice at Home, a special edition newsletter from the Robert H. Jackson Center that will hit your inbox every 3 weeks with updates on our virtual programming, lesson plans and lectures, and interesting finds from our digital archives.
If you enjoy this newsletter, please pass it on to a friend and share it on your social media pages. Make sure to tag us (@roberthjacksoncenter) and use the hashtag #JusticeatHome.
Tea with RHJC: Most Recent Tea & a Schedule Change
Tea Time with the Jackson Center takes both a look back at Jackson's place in history and a look forward showing how his legacy influences current events. We have moved to a biweekly schedule for future Teas while keeping the Thursday at 3pm time slot on our Facebook page. We'll continuing sending emails announcing our Tea guests and topics on the new biweekly schedule.
You do not have to have a Facebook account to join us - simply click here to see our Facebook page, watch previous #TeawithRHJC events, and join us live every other Thursday at 3pm. The recorded videos are also uploaded onto the Jackson Center's website and YouTube channel.
Our August 20th Tea featured students and faculty from Yale Law School's Worker and Immigrant Rights Advocacy Clinic (WIRAC). The panel discussed the recent Supreme Court decision on DACA, their work and what might be next, and the student-advocate experience. WIRAC participants represent immigrants, low-wage workers, and their organizations in labor, immigration, criminal justice, civil rights, and other matters. The clinic docket includes cases at all stages of legal proceedings, including the United States Supreme Court.
Other recent guests have included:
Joshua Edmonds, Director of Digital Inclusion for the City of Detroit. Edmonds is the first person to hold this role in Detroit's city government, making it one of a growing number of cities to have a full-time employee engaging with issues of digital equity. Joshua & Kristan discussed the community impact of the digital divide and the importance of digital inclusion.
Jon Hanson, the Alan A. Stone Professor of Law and Co-Director of the Systemic Justice Project and the Project on Law and Mind Sciences at Harvard Law School. Jon and Kristan discussed the lenses through which we can view justice and how that impacts working towards equity for all.
Please follow us on Facebook, LinkedIn, Twitter and Instagram, and share the videos with your family and friends on social media using the hashtag #TeawithRHJC.
The Age of Robert H. Jackson: London, Nuremberg, Today
On August 8th, the Jackson Center hosted a free global webinar celebrating the 75th Anniversary of the signing of the London Agreement and Charter and the establishment of the International Military Tribunal at Nuremberg. Panelists from the Jackson Center, London and Nuremberg commemorated these historic events and discussed how the legacy of Robert H. Jackson and the Nuremberg Trials live in the world today.
Click on the above video to watch the webinar in its entirety. This program was made possible through the generosity of donors to the Robert H. Jackson Center and the Whitney R. Harris Lectureship Fund and our program partners: Case Western Reserve University School of Law, Courtroom 600, International Nuremberg Principles Academy, the International Bar Association, and the Whitney R. Harris World Law Institute.
Katherine B. Fite (Lincoln) and Justice Robert H. Jackson are shown seated together at an ornate desk. Although not specifically indicated, the picture was probably taken during the Nuremberg War Crimes Trials. It is autographed: Best wishes to Katherine B. Fite from Robert H. Jackson.
From Jackson's Desk
Robert H. Jackson was a gifted orator and writer, and many of his articles and transcripts of his speeches are housed on our website. We feature them in our weekly #TuesdayMotivation and #SundayQuote on the Jackson Center's social media pages.
In a 1947 address before the New York State Bar Association, Justice Jackson reflected on both his personal and legal experience as the United States Chief of Counsel at Nuremberg:
"I can sum up my experience shortly. The points of agreement between the different legal systems of the world are far more impressive and far more important than their points of disagreement. In all lands our profession struggles with problems that are much the same and they work out answers that are surprisingly alike. "

Read the entire address here.
This Month in Jackson History
August 2, 1945- The London Conference concludes. For more than a month, during the summer of 1945, representatives of the Soviet, French, U.S. and U.K. governments attempted to reconcile their conflicting legal concepts and devise a workable procedure for the trial. At the core of these intense negotiations was Robert H. Jackson, appointed by President Truman as the Chief of Counsel for the U.S. at the International Military Tribunal (IMT). Read more on our website here.
August 8, 1945-
T
he United States, United Kingdom, France and the Soviet Union signed the London Agreement. The London Agreement & Charter became the basis for the trials before the IMT at Nuremberg. Read more on our website here.
From the Archives
In 1920, Henry S. Manley and Gerald Herrick joined Jackson as senior partners in forming the Jackson, Manley & Herrick law office. By 1924, the firm was located in the new Hotel Jamestown (pictured below), and was becoming a prestigious practice. The Jackson Center houses Jackson's desk from the Hotel Jamestown office.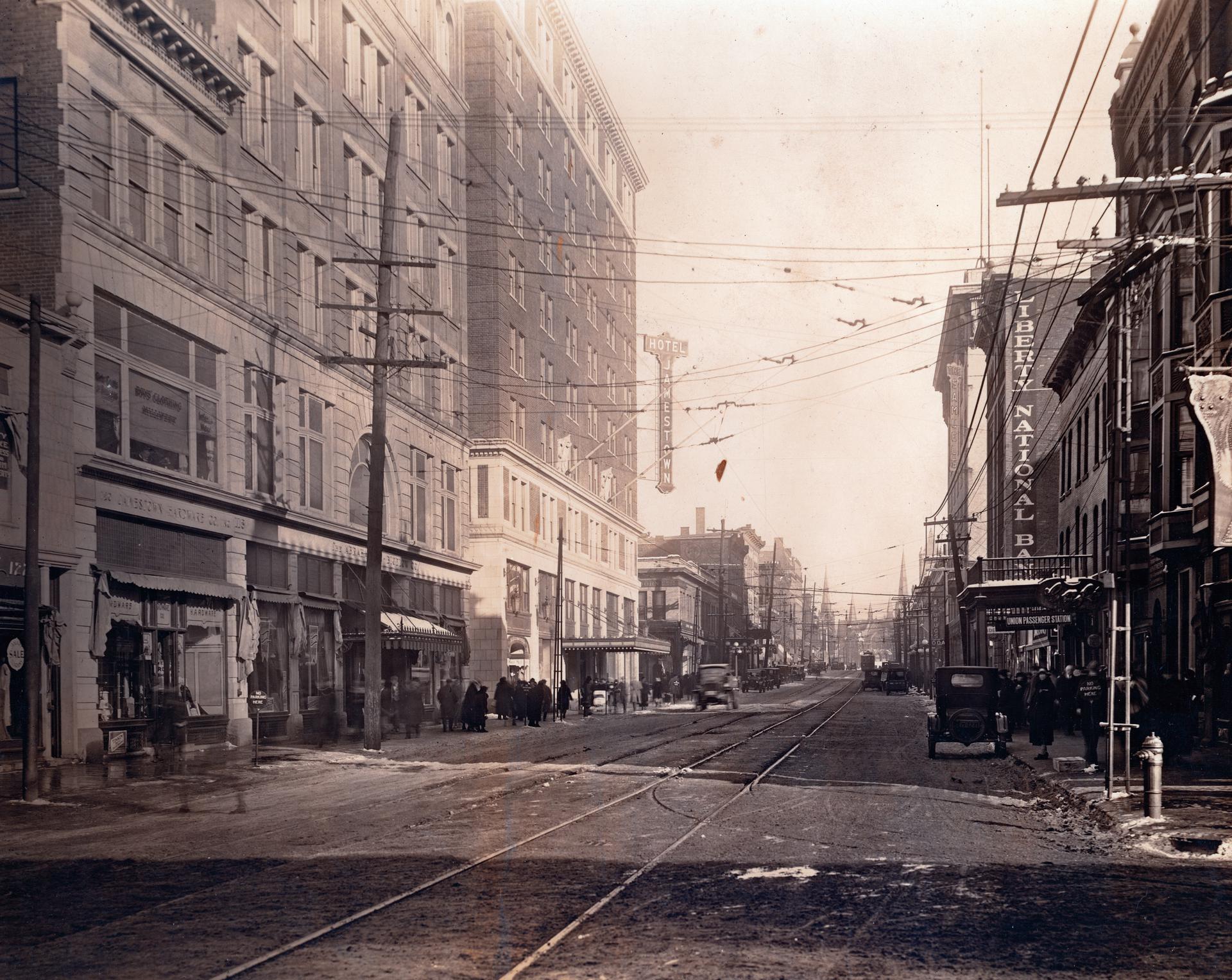 Save the Date for our First Ever Virtual Gala!
The Robert H. Jackson Center announces "Fixed Star," a celebratory Virtual Gala on Thursday, September 10, 2020, to benefit the programs and events we provide to our local, national, and international communities.
Our honoree, Benjamin Ferencz, Chief Prosecutor for the U.S. Army at the Einsatzgruppen trial in Nuremberg and subject of the Netflix documentary, Prosecuting Evil, will open our event at 7:00 pm (EST) on Thursday, September 10. In his 100th year, Ferencz continues to advocate for "law, not war."
The evening will feature many unique silent auctions items, inspirational stories, and celebration. So, from wherever you may be watching, bring your family, friends, colleagues and neighbors to join us!
All proceeds from this event will bring vital funds and support to the Jackson Center's free programs and initiatives. If you have questions or are interested in placing an ad to celebrate and honor Ben, family or friends, please contact RHJC Director of Development Marion Beckerink at (716) 483-6646 or tmbeckerink@roberthjackson.org.
At 6:45PM (EST) on September 10, Dale DeGroff will kick off our celebration with a signature cocktail recipe created especially for this event. Dale built his talents and techniques through tending at New York City's famous Rainbow Room. Dale has won two James Beard Awards for Wine and Spirits Professional and a Life Achievement-Who's Who in Food & Beverage Award. When you register in advance for the Gala, you will be entered to win 1 of 5 copies of DeGroff's 2020 edition of The Craft of the Cocktail.
Click here to register for the Gala. Complete the registration process by clicking "Sign In" in the top right corner of this webpage (depicted below), and follow the instructions on the screen. Once you have signed in and set up an account, you can donate, preview auction items, and watch the gala through your secure account on September 10.
Your Gifts, Your Future
Your gift of any amount to our 2020 Annual Fund helps support the Robert H. Jackson Center's curriculum-based grade school programs, summer internships for college and law students, Teacher Fellows program, notable lecture series, CLEs, and topical forums that invite meaningful conversations about important issues of law and how the law impacts our lives today.
With a gift of just $10 or more, consider joining our Bench Circle of monthly or quarterly supporters today and help sustain the kind of world in which you want to live.
Our Contact Information
*{{Organization Name}}*
*{{Organization Address}}*
*{{Organization Phone}}*
*{{Organization Website}}*

*{{Unsubscribe}}*