Justice at Home
"To us in this garden spot of new America is given a little city, also built upon hills
and set gem-like within the seven encircling ends of a silver stream. Let it be one
of the responsible and abiding tasks of our lives to make this loved home of our
youth year by year more worthy of the setting which has been so cunningly
fashioned by Nature's matchless handicraft."
-Robert H. Jackson, Jamestown High School's Class Day Speech
Welcome to Justice at Home, a special edition newsletter from the Robert H. Jackson Center that will hit your inbox every 3 weeks with updates on our virtual programming, lesson plans and lectures, and interesting finds from our digital archives.
If you enjoy this newsletter, please pass it on to a friend and share it on your social media pages. Make sure to tag us (@roberthjacksoncenter) and use the hashtag #JusticeatHome.
Every Thursday at 3pm live on our Facebook page, Tea Time with the Jackson Center takes both a look back at Jackson's place in history and a look forward showing how his legacy influences current events. You do not have to have a Facebook account to join us - simply click here to see our Facebook page, watch previous #TeawithRHJC events, and join us live on Thursdays at 3pm. The recorded videos are also uploaded onto the Jackson Center's YouTube channel.
Tomorrow's Tea Time features Stephen Vladeck, A. Dalton Cross Professor in Law, University of Texas at Austin School of Law chatting with Kristan about executive power and the Defense Production Act.
Recent guests include:
-Jim Johnson, Prosecutor of the Residual Special Court for Sierra Leone
-Kurt Graham, Director of the Harry S. Truman Presidential Library and Museum
If you have a Facebook account, follow our page and share the videos with your family and friends on social media using the hashtag #TeawithRHJC.
Click here for a playlist of all of the #TeawithRHJC videos on YouTube!
On April 18, 2018, the Robert H. Jackson Center hosted a symposium entitled "Valuing Water: A New Deal for the Environment." The moderator was Julia Craighill, Robert H. Jackson's granddaughter and owner of Ensight Consulting. She opened the conference by reviewing Jackson's famous environmental case concerning the Forbes Dairy in Jamestown, NY.
Click the video above to watch the excerpt on the Forbes case, or here to see the symposium in its entirety.
From Jackson's Desk
Robert H. Jackson was a gifted orator and writer, and many of his articles and transcripts of his speeches are housed on our website. We feature them in our weekly #TuesdayMotivation and #SundayQuote on the Jackson Center's social media pages.
On Tuesday, June 21, 1910, Jamestown High School held its 23rd annual Class Day. Eighteen-year-old Robert H. Jackson had spent the 1909-10 academic year as a post-graduate student at Jamestown High School. He was selected to give the student oration of the day. His speech, which we today would call "environmentalist," described Chautauqua County's and Jamestown's settlement and development and called for stewardship by current inhabitants of the beautiful region:
"Probably none today would wish Jamestown any career but one of unrivaled commercial prosperity. It is a matter of pride that wherever the foot of civilized man has trod there has gone some product of the skill and labor of our citizens. But if a high school course has not taught us to place a higher than commercial estimate upon the works of nature, the vital quality of our education is wanting. It may not be ours to seek out the beauties of new country or organize a municipality; it may not be for us to sweep an ancient people from power or to labor upon the outposts of civilization. But it is for us to rescue nature's endowment from the hand of the despoiler and deliver her beauty from the blight of avarice."
Read the speech in its entirety here.
This Month in Jackson History
May 2, 1945 - President Harry S. Truman appointed Justice Robert H. Jackson to act as the representative of the United States and as its Chief of Counsel in preparing and prosecuting charges of atrocities and war crimes against the leaders of the European Axis powers and their principal agents and accessories. Justice Jackson was appointed Chief Prosecutor by Executive Order 9547. Read more about Jackson's role at Nuremberg from John Q. Barrett, RHJC Board member, Elizabeth S. Lenna Fellow and St. John's Law Professor here.
From the Archives
As summer approaches, we hope you make time to enjoy the great outdoors like AG Jackson and his friend, Secretary of Agriculture and Democratic Vice President nominee Henry Wallace. Just make sure you're following appropriate social distancing protocol when throwing your boomerang!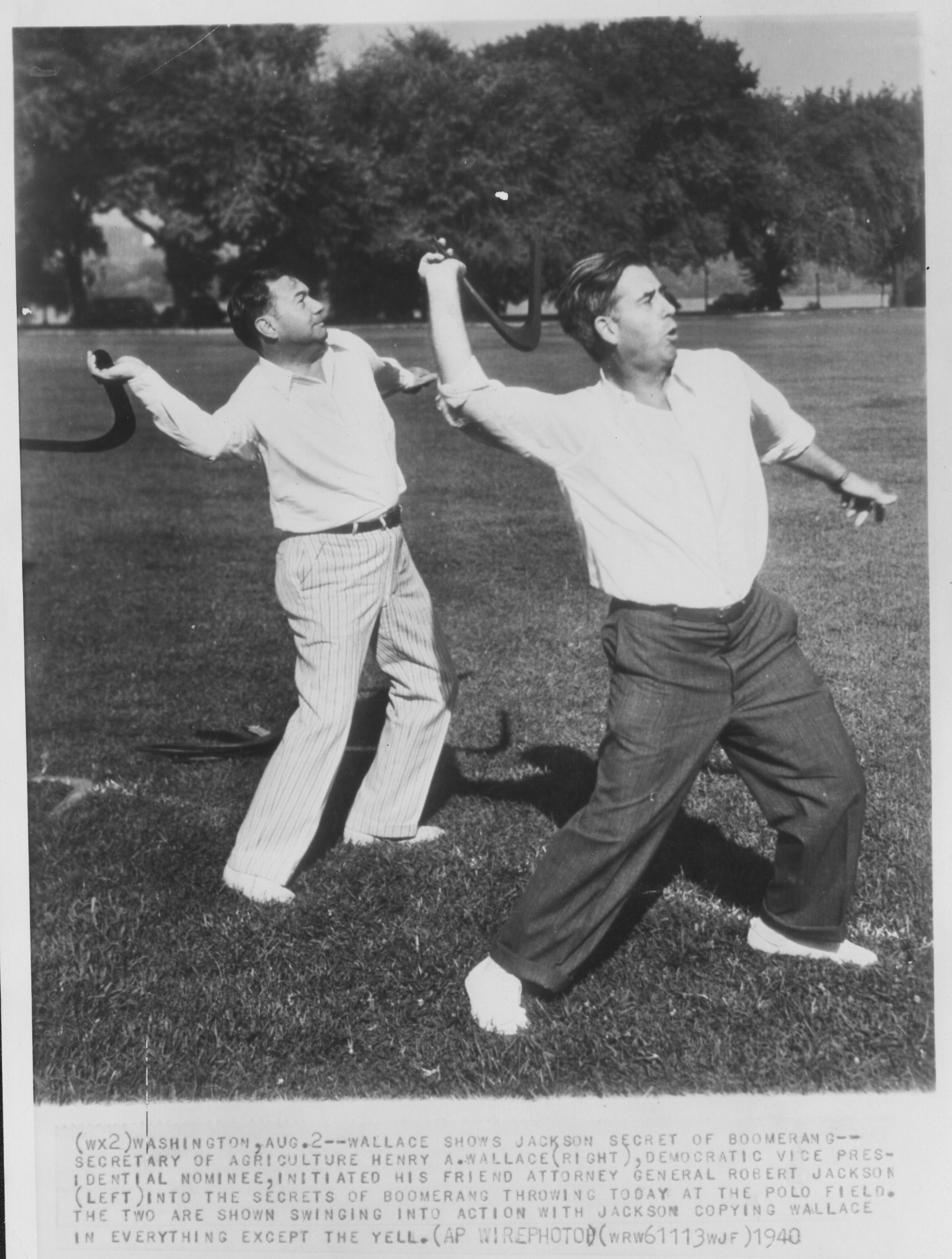 Save the Date for #GiveBigChq
June 1-11!
Our Give Big CHQ goal this year is to complete our 500-piece puzzle by raising $10,000 to help fund the continuation of our free annual programs: Living Voices to teach lessons of the Holocaust and immigration; Young Readers to nurture reading and writing; bi-annual Continuing Legal Education seminars to promote professional development; the Robert H. Jackson Lecture on the Supreme Court, plus summer Teacher Fellows, college and law school interns, civics education, and numerous topical lectures on issues of law we face as new challenges may threaten rights we should never take for granted. Will you contribute a piece to complete the puzzle with a gift of $10, $50 or $100 today? Grab 12 pieces by joining our Bench Circle with a monthly gift in the amount of your choice.
The Robert H. Jackson Center addresses puzzling questions of law and civil liberties that can only be solved with ingenuity or patient effort. With Justice Jackson as our standard bearer, we promote the art of meaningful debate, the power of the written word, and the benefits of reading to refine self-expression for elementary, middle, and high school students. For adult audiences, we bring leading experts and scholars who have devoted their lives to studying how democracies thrive when changes shake the balance between liberty and the protection of rights.
Your gifts to the Jackson Center ensure history lessons are taught on how our native son, Robert H. Jackson, had the courage to face serious challenges to civil liberties and come down on the side of protecting justice for all. Our programs are free to our audiences because we believe all voices need to be at the table for meaningful discussions.
Thank you to all who have supported us these past 19 years, and we look forward to welcoming new donors during this campaign.
A New Charitable Opportunity
On March 27, 2020, the Coronavirus Aid, Relief, and Economic Security (CARES) Act was signed into law. The bill was written to deliver much-needed relief for American families, workers, businesses, and nonprofit organizations. This now means the limitation on what amount of your charitable donations you can deduct against your income has been lifted for tax year 2020. Last year, the maximum was 60% for cash donations and 50% for non-cash contributions. The CARES Act has removed these limitations for Federal income tax purposes. In addition, anyone who donates up to $300, whether you itemize or not, can deduct that amount against other income in 2020.
We hope you will consider this new provision and support the Jackson Center with a gift of any amount. Your generosity makes all the difference to our ability to advance our mission and in the life of our organization. And, for that, we are sincerely grateful.
Donate to RHJC online here.
Our Contact Information
*{{Organization Name}}*
*{{Organization Address}}*
*{{Organization Phone}}*
*{{Organization Website}}*

*{{Unsubscribe}}*